BORN TO PIONEER
The flagship saloon and next-generation LS realizes the "Ultimate Experience of Visionary Anticipation", a uniquely creative and emotional experience made possible by Lexus vision designed to capture the hearts of the next wave of world leaders.
MEET THE LS
For Lexus, creating a flagship sedan is about much more than making a luxury vehicle. It goes without saying that it must symbolize Lexus, but it must also define the luxury car of the future, crystallize Japanese culture, and serve as an exemplary car to the world that exceeds customers' imagination. To realize this, in developing the LS we focused on the fusion of its personality and emotional appeal as a flagship sedan, with performance that delivers the pinnacle of elegance, comfort and environmental friendliness, and perceived qualities defined by unique Japanese Takumi craftsmanship and advanced production technologies. We invite you to experience the LS and the future of Lexus with all your five senses.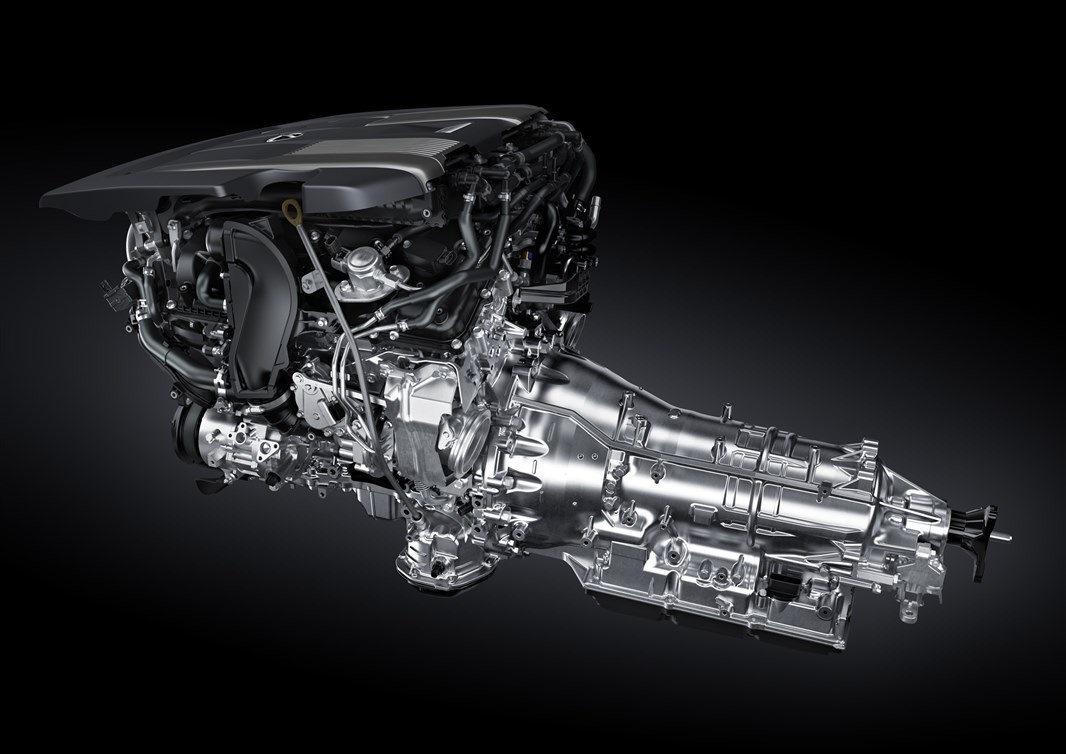 ENGINE & MECHANICAL FEATURES
- 3.5L Twin Turbo V6 24-valve with 416 Horsepower @6,000 RPM& 599 NM Torque @1,600 – 4,800 RPM
- 10 Speed Automatic Transmission + Drive Mode Select (Eco/Normal/Sport/Sport /Sport+/Custom) + Paddle Shifters
- Rear Wheel Drive
- Air Suspension with Adaptive Variable Suspension

KEY FEATURES
Full-Time Four-Wheel Drive
Never sacrifice style for capability with all-wheel drive, available on every LS model.
Dual-Screen Rear Seat Entertainment with Marc Levinson® Sound System
With an integrated suite of class-leading entertainment features, the LS boasts dual screen rear seat entertainment system outfitted with a Marc Levinson® audio equipped with 24-speakers that indulge passengers with a theater quality experience on the move.
Driver-Centric Interior
From a precision-crafted steering wheel to an available Adaptive Variable Air Suspension, the LS envelops you in personalized comfort.
The Breathtaking LS
Discover exhilaration inside and out, from exclusive sport seats to a specially tuned suspension.
Exhilarating Handling
With a low center of gravity and a next-generation Adaptive Variable Suspension, the LS pushes performance to unprecedented heights.
Executive-Class Seating
First class seating in the rear with impressive features, such as the rear-seat butterfly headrests, seven relaxing massage settings and a sliding ottoman and rear arm rest with multi-function color touch screen.
Takumi Craftmanship
From premium, handcrafted wood trims to precise stitching of the leather touches – the fine skills of Lexus Takumi craftsmen contribute to the high quality of every LS flagship produced.
TECHNOLOGY
The LS offers advanced utility and fulfilling comfort befitting Lexus flagship sedan, to provide a superb mobility experience for driver and passengers alike. Built on the platform of the high-performance LC coupe, the LS 500 features our first-ever twin-turbocharged engine and offers meticulous craftsmanship like three premium wood-trim designs so unique that they represent a mix of traditional and new technologies and can take up to four months and 32 steps to complete.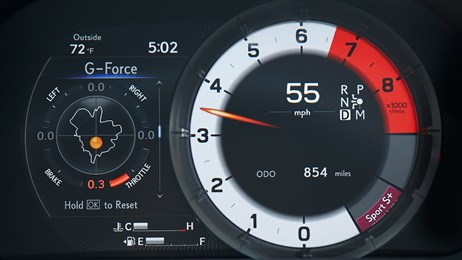 LFA-INSPIRED DIGITAL INSTRUMENTATION
Offered exclusively on the F SPORT model, a digital tachometer inspired by the world-renowned LFA supercar helps give you an even more aggressive edge. Featuring a metallic-trimmed bezel, this tachometer slides to reveal the multi-information display.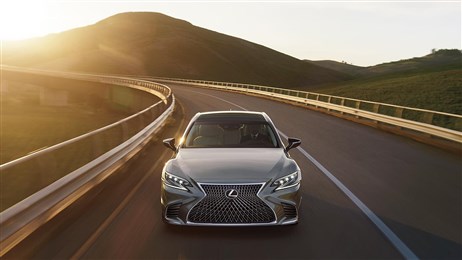 Lexus Complete of Active Safety Features
The Lexus LS has a suite of safety features onboard, including a Pre-Crash system that detects the new LS can help brake or steer away if it detects an impending collision, while still remaining in its lane. Now with Lane Change Assist, the LS can even help automatically change lanes for you when it's safe to do so. Among other, this LS encompasses the most advanced and progressive safety system yet.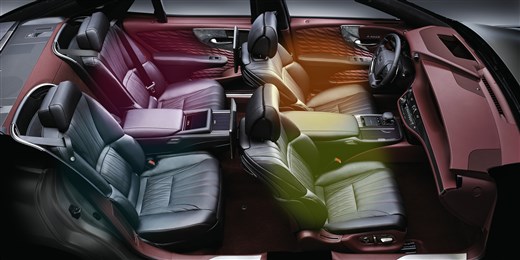 Lexus Climate Concierge
Lexus Climate Concierge coordinates with the 4-zone independent temperature control to automatically control the auto air conditioner with the seat heaters, seat ventilation and steering wheel heater to provide optimal comfort for each occupant. The body surface temperature of occupants is detected by IR (Infra-red Rays) matrix sensors to quickly provide the optimal level of comfort for all occupants. It also detects sunlight in the early morning and at sunset and controls the vehicle's climate control system to maintain comfort.

NAVIGATION SYSTEM WITH 12.3-INCH DISPLAY
The large 12.3-inch high-resolution split-screen multimedia display provides immediate, simultaneous access to audio or climate controls and various systems including Navigation. Featuring a full-screen map view for added convenience, the voice-activated Navigation System can map millions of points of interest across the country and can display information in English, French or Spanish. And, in addition to offering up-to-date traffic and weather information, 3D city views, and simulated views of approaching highway junctions, it displays the current speed limit and can automatically identify nearby gas stations if you begin to run low on fuel.
COMFORT & DESIGN
To achieve the finest passenger experience we've ever created, the Lexus LS offers an exceptional levels of refinement. In addition to generous rear legroom, Lexus Climate Concierge and rear-seat butterfly headrests, the first level also features an extendable right-rear ottoman and a class-leading rear-seat reclining angle, as well as heated and ventilated seats with a massager. To help you make the most of every indulgence, the rear-seat passenger control panel enables you to manage the finest details—from individual climate zones to seven different massage settings.
INTERIOR
Designed around the concept (Progressive Comfort), the interior combines a cockpit for focused concentration on driving with exquisite relaxation befitting an exceptional luxury sedan.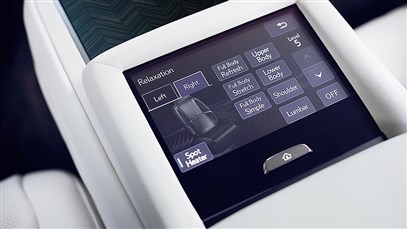 Wood-And Leather-Trimmed Rear-Center Console With 7.0-Inch Touchscreen
Connectivity isn't just limited to the front row. To help you make the most of every indulgence, the available rear-seat passenger touchscreen enables you to manage the finest details—from individual climate zones to seven different massage settings.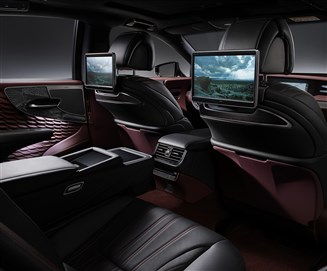 Rear Seat Entertainment System
The rear seat entertainment system includes 11.6-inch displays that automatically adjust with the seat position to maintain an excellent angle for easy viewing, a Blu-ray Disc player, SD card slot, and a HDMI jack that enables the connection of a computer or other devices. Rear seat passengers can also enjoy videos, music and other media stored on mobile devices using Miracast or DLNA (Digital Living Network Alliance).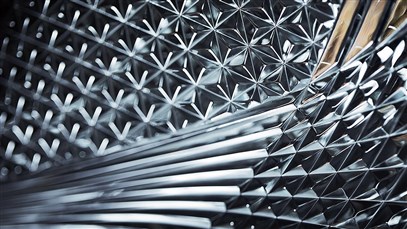 Kiriko Glass Interior Door Trim
With its delicately etched pattern and luminous glow, available Kiriko Glass is designed by hand to catch the eye and light. A laser-scanning technique creates data from ten thousand different cuts in order to capture the uniqueness of this human touch. Each piece of glass requires up to 147 points of polishing, which can take up to two hours to complete.
Electronically Controlled Air Suspension (With Access Mode)
In addition to the vehicle height adjustment function which can be switched between Normal and High settings, access mode automatically raises the vehicle to make ingress and egress easy.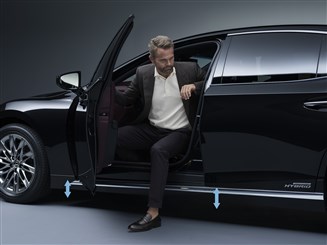 Hands-Free Power Trunk Lid
Even if both hands are full, when carrying the Electronic Key you can open and close the trunk lid automatically by moving your foot under the rear bumper.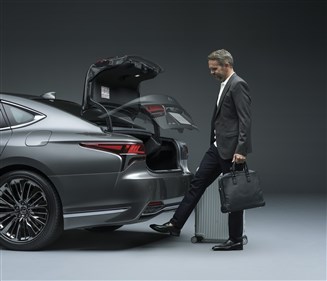 Headlamps
The ultra-small 3-eye Bi-Beam LED headlamps combine advanced design with excellent light distribution. 16 LEDs in the sequential turn signal lamps illuminate sequentially in a flow from the inner side to the outside of the vehicle.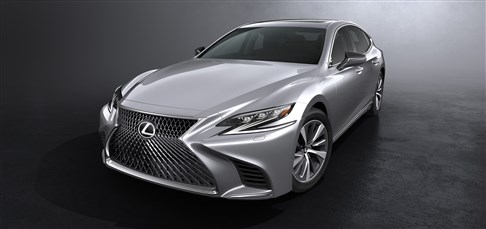 EXTERIOR
Expressive the design concept " Sensual Aggressive" the exterior fuses sensual beauty with the low center of gravity of a refined platform to generate anticipation of Dynamic Driving Performance.
PERFORMANCE
The LS shares a front-engine platform with the high-performance LC coupe. The front-midship design delivers exceptional balance and allows for a lower overall height and driver position, enhancing handling thanks to a lower center of gravity. The result is sport-inspired stability, responsiveness and, ultimately, one of the most confident and engaging driving experiences we've ever created.
SAFETY
The aggressive performance of the LS as a driver's sedan is underpinned by active and passive safety measures that utilize advanced technologies to deepen your peace of mind.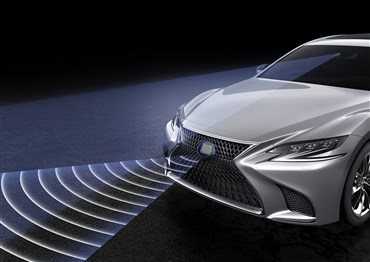 Pre-Crash Safety System
To help prepare for and avoid potential front collisions, the available Pre-Collision System includes a Driver Attention Monitor that is designed to warn you if you're facing away from the road when an obstacle is detected ahead. Should it determine a frontal collision is likely, it's designed to automatically prepare Brake Assist for increased braking response and can even automatically begin braking under certain conditions.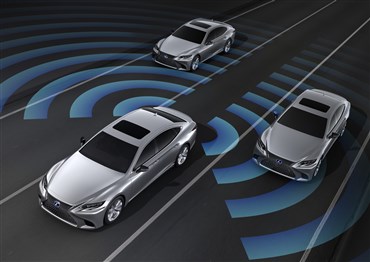 Blind Spot Monitor System
When the quasi-millimeter-wave radars in the rear bumper detect vehicles in adjacent lanes that aren't visible in the door mirrors, the system activates an LED warning indicator in the relevant door mirror the moment a vehicle enters this blind spot.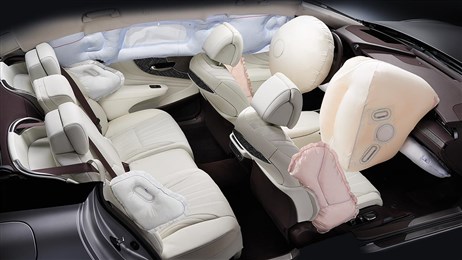 SRS (Supplemental Restraint System) Airbags
The LS features dual-stage SRS airbags (Front seats), SRS knee airbags (Front seats), SRS side airbags (Front and outboard rear seats) and SRS curtain shield airbags (Front and rear seats). SRS seat cushion airbags (Outboard rear seats) are also available for the power rear seats.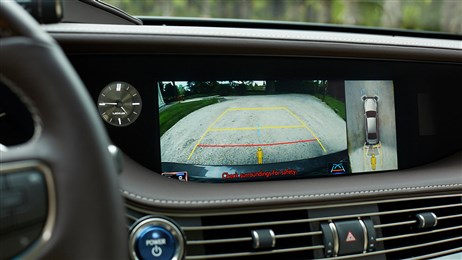 PANORAMIC VIEW MONITOR
Four available high-resolution cameras mounted on the front, sides and rear of the vehicle give drivers a bird's-eye view of the near environment. Moving View and See-Through View options create a composite image of the vehicle's surroundings as on-screen guides help assist with parking and tight maneuvering.
WARRANTY
Every Lexus is backed by a comprehensive manufacturer warranty that should give you kilometers and kilometers of confidence covering either 4 years or 100,000km (whichever occurs first).
Disclaimer
BUMC s.a.l. reserves the right to modify the information contained in this site at any time without notice. While BUMC s.a.l. makes all reasonable efforts to ensure that all material on this site is correct, accuracy cannot be guaranteed and does not assume any responsibility for the accuracy, completeness or authenticity of any information contained in this site.
• This site and all information and materials contained herein are provided to you as is without warranty of any kind.
• BUMC s.a.l. is not responsible for information contained on Lexus models on independent websites and cannot confirm its validity.
• All information, imagery and videos are copyrighted and cannot be replicated or used.
• Photos are for illustration purposes only.

* The SRS (Supplemental Restraint System) airbags are supplemental devices to be used with the seatbelts. The driver and all passengers in the vehicle must wear their seatbelts properly at all times. Never install a rear-facing CRS (Child Restraint System) on the front passenger's seat. For a forward-facing CRS, it is recommended you use it in the rear seats. Please do not use accessories for the seats which cover the parts where the SRS side airbags should inflate. Such accessories may prevent the SRS side airbags from activating correctly, causing serious injury (Lexus genuine seat covers are specifically designed for models equipped with the SRS side airbags. To find out about availability in your area, please inquire at your local dealer). The photo shows all the SRS airbags activated for display purposes only (the SRS side and curtain shield airbags only inflate on the side of the collision in an actual accident). For details on these and other important safety features, be sure to read the Owner's Manual carefully.
** Please note that Pre-Crash System may in some cases not operate properly due to a variety of road conditions, vehicle conditions, weather conditions, and operation by the driver or pedestrian/bicycle rider conditions. The driver is solely responsible for safe driving. Please enquire at your nearest Lexus Boutique for details on the availability of features.

*** People and obstacles that show in the monitor differ from the actual position and distance. Do not rely completely on the monitor and make sure you check the safety around the vehicle with your own eyes when driving.
THE LS GALLERY
Begin your journey to explore the breathtaking design, craftmanship and flawless finish of a Lexus begins.