BEFITTING THE FLAGSHIP SEDAN
Befitting the Lexus flagship sedan, the LS realizes a future-focused vision of luxury to create a superior driving experience. It further evolves Lexus DNA to provide refined driving and ride performance, fusing advanced technologies with exquisite craftsmanship to shape trendsetting values.
MEET THE LS
The inspired starting point of the LS was to refine every aspect of 'driving performance, quietness, ride, and interior comfort' encoded in the original LS DNA, to give fresh expression and nuance to exceptional Lexus quietness, comfort and peace of mind. Then project it into the future through the adoption of innovative 'Lexus Teammate' technologies that advance the HMI (human-machine interface) between driver and car to deliver exhilarating, confident driving. These qualities are given emotional expression through an artistic approach to design that shapes the dynamic silhouette. It is deepened by Takumi craftsmanship which captures the ethereal qualities of moonlight on waves in the unique 'Haku & Nishijin' finishes in the cabin, and enjoyed in the ever-changing moonlit-inspired light and shadow of the sophisticated Gin-Ei Luster exterior finish.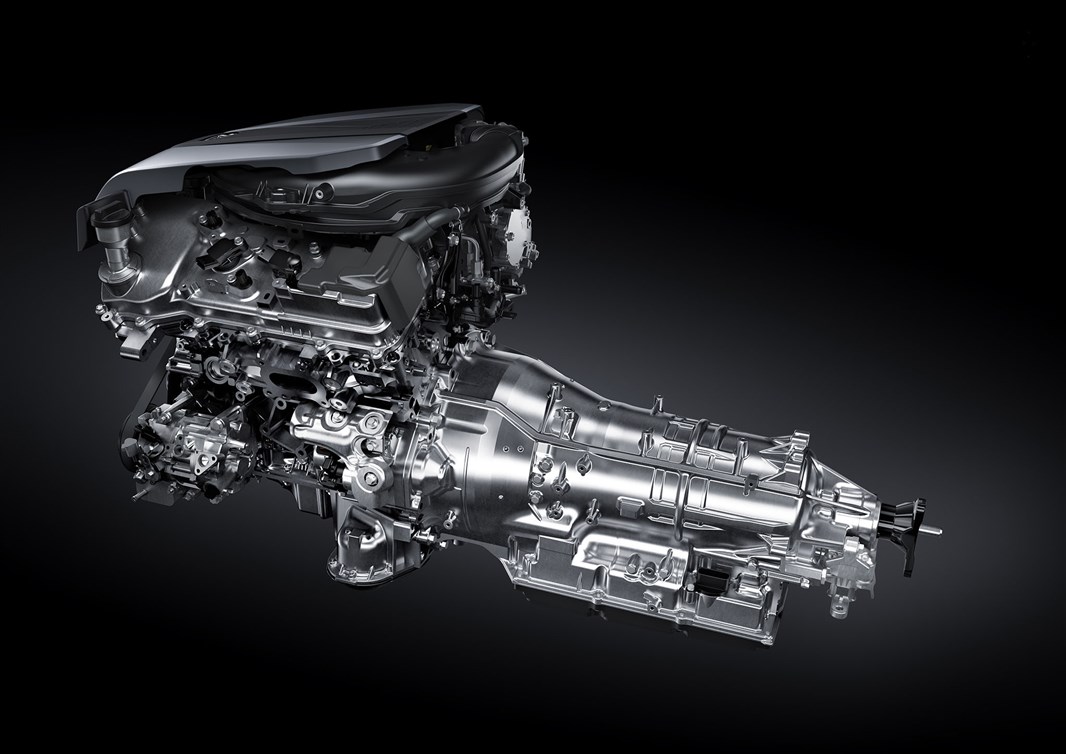 ENGINE & MECHANICAL FEATURES
- 3.5L Twin Turbo V6 24-valve with 416 Horsepower @6,000 RPM & 599 NM Torque @1,600 – 4,800 RPM
- 10 Speed Automatic Transmission + Drive Mode Select (Eco/Normal/ Sport / Sport /Sport+/Custom) + Paddle Shifters
- Rear Wheel Drive
- Air Suspension with Adaptive Variable Suspension
KEY FEATURES
Takumi Craftmanship
From premium, handcrafted wood trims to precise stitching of the leather touches – the fine skills of Lexus Takumi craftsmen contribute to the high quality of every LS flagship produced.
Executive-Class Seating
First class seating in the rear with impressive features, such as the rear-seat butterfly headrests, seven relaxing massage settings and a sliding ottoman and rear arm rest with multi-function color touch screen.
Exhilarating Handling
With a low center of gravity and a next-generation Adaptive Variable Suspension, the LS pushes performance to unprecedented heights.
The Breathtaking LS
Discover exhilaration inside and out, from exclusive sport seats to a specially tuned suspension.
Driver-Centric Interior
From a precision-crafted steering wheel to an available Adaptive Variable Air Suspension, the LS envelops you in personalized comfort.
Dual-Screen Rear Seat Entertainment with Marc Levinson® Sound System
With an integrated suite of class-leading entertainment features, the LS boasts dual screen rear seat entertainment system outfitted with a Marc Levinson® audio equipped with 24-speakers that indulge passengers with a theater quality experience on the move.
TECHNOLOGY
Our Takumi craftsmen strive for perfection in every aspect of their work, actively seeking enhancements by applying constant care and dedication to their craftsmanship, blending their craftsmen's skills with the power of technology to better anticipate the future.


Optitron Instrumentation
The extra large high definition 12.3-inch central display can be operated by voice command or Touch Pad with Remote Touch Interface that is as easy to use as a smartphone or tablet. Its split-screen capability allows you to simultaneously access information, such as Lexus Premium Navigation and climate data.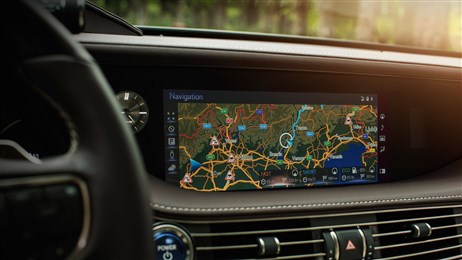 Lexus Premium Navigation
The extra large high definition 12.3-inch central display can be operated by voice command or Touch Pad with Remote Touch Interface that is as easy to use as a smartphone or tablet. Its split-screen capability allows you to simultaneously access information, such as Lexus Premium Navigation and climate data.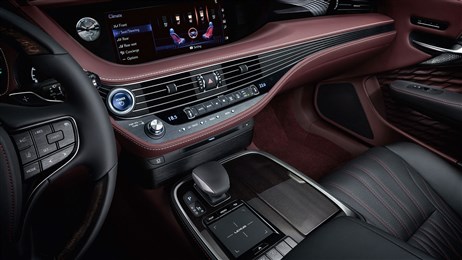 S-Flow Climate Control
S-Flow Climate Control intelligently manages the conditions inside your Lexus, creating the optimal environment for your comfort while balancing your fuel economy. For example, it can detect how many seats are occupied and regulate climate controls accordingly, orchestrating a pleasant environment at all times.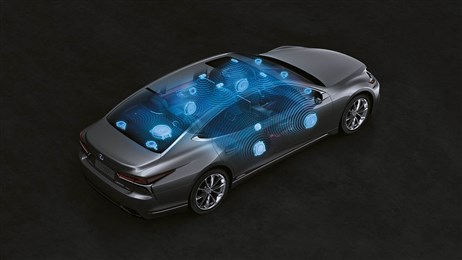 Mark Levinson® Surround system
The 23-speaker 3D Mark Levinson® Reference Surround system is tailored to the specific acoustic properties of the LS cabin, delivering a peerless 7.1-channel digital home-theatre experience.
COMFORT & DESIGN
To achieve the finest passenger experience we've ever created, the Lexus LS offers an exceptional levels of refinement. In addition to generous rear legroom, Lexus Climate Concierge and rear-seat butterfly headrests, the first level also features an extendable right-rear ottoman and a class-leading rear-seat reclining angle, as well as heated and ventilated seats with a massager. To help you make the most of every indulgence, the rear-seat passenger control panel enables you to manage the finest details—from individual climate zones to seven different massage settings.
INTERIOR
A refined expression of contemporary luxury, the interior combines a cockpit designed to support simple operation and focused concentration for relaxed confident driving, with sublime comfort for deep relaxation.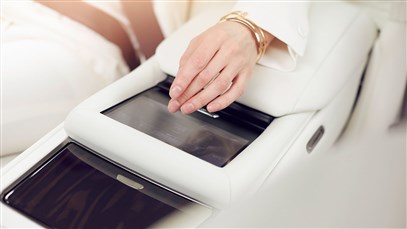 Rear Multi-Operation Panel
The rear touch panel display gives passengers the power to configure their climate settings, adjust the audio, control the optional rear seat entertainment system, and operate the rear blind with just a few taps.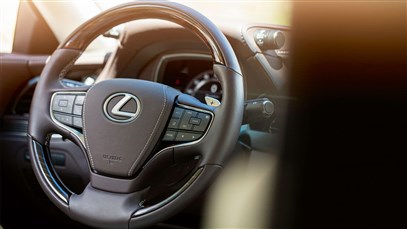 Wood Steering Wheel
Our leather three-spoke steering wheel fits snugly in your hands, and can even heat up for colder mornings. Meanwhile, our alternative option combines real leather with beautiful inlays of finely grained wood, creating a sensory delight for your fingers.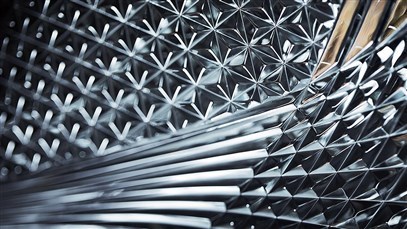 Kiriko Glass Interior Door Trim
With its delicately etched pattern and luminous glow, available Kiriko Glass is designed by hand to catch the eye and light. A laser-scanning technique creates data from ten thousand different cuts in order to capture the uniqueness of this human touch. Each piece of glass requires up to 147 points of polishing, which can take up to two hours to complete.
Spindle Grille
We've distinguished the front of our LS flagship saloon with a bold new execution of the iconic Lexus spindle grille. Our Takumi experts developed this striking and elaborate mesh design over a period of several months using sophisticated computer modelling and a trained eye for excellence.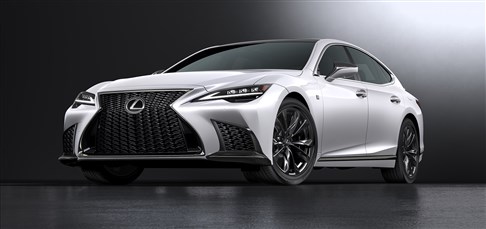 Rear Cross Traffic Alert and Braking
The Rear Cross Traffic Alert detects obstacles, vehicles and pedestrians around your car while you're reversing. If necessary, the system will activate a buzzer and a visual warning in your centre display and door mirrors. It can even apply Drive Force Limiting Control and Brake Control to avoid a collision.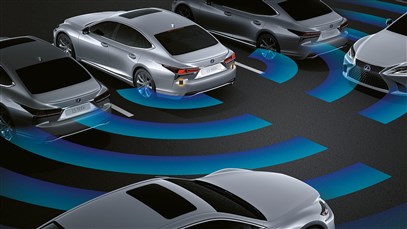 Hands-Free Power Boot LID
For convenient loading and unloading the LS is available with a hands-free power boot lid. This can be opened and closed by moving your foot in front of a sensor located underneath the rear bumper while you are carrying the smart key.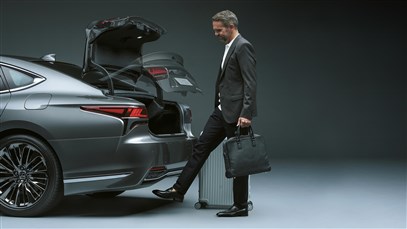 EXTERIOR
The LS exudes chic sophistication at first sight, fusing sensual beauty with a low center of gravity to shape a distinctive, confident presence. The beautiful form seamlessly integrates advanced functionality in the flowing lines of the grille and headlamps, highlighted by the ever-changing expression of the extraordinary Gin-Ei Luster finish.

PERFORMANCE
The relentless pursuit of perfection to create a superior driving experience honed the LS's outstanding response and power, contributing to an emotional performance that heightens driving enjoyment when you choose to drive. Together with the refined and luxurious ride comfort essential to a Lexus flagship often enjoyed as a chauffeur car.

SAFETY
The aggressive performance of the LS as a driver's sedan is underpinned by active and passive safety measures that utilize advanced technologies to deepen your peace of mind.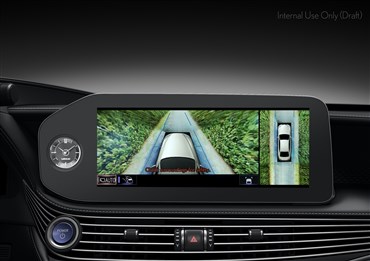 Panoramic View Monitor
Four available high-resolution cameras mounted on the front, sides and rear of the vehicle give drivers a bird's-eye view of the near environment. Moving View and See-Through View options create a composite image of the vehicle's surroundings as on-screen guides help assist with parking and tight maneuvering.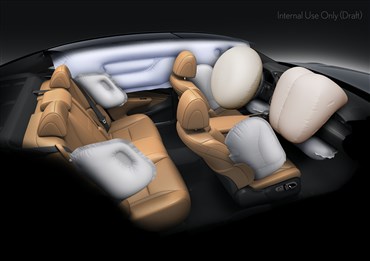 SRS (Supplemental Restraint System) Airbags
The LS features dual-stage SRS airbags (Front seats), SRS knee airbags (Front seats), SRS side airbags (Front and outboard rear seats) and SRS curtain shield airbags (Front and rear seats). SRS seat cushion airbags (Outboard rear seats) are also available for the power rear seats.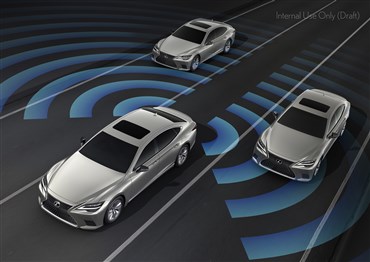 Blind Spot Monitor System
When the quasi-millimeter-wave radars in the rear bumper detect vehicles in adjacent lanes that aren't visible in the door mirrors, the system activates an LED warning indicator in the relevant door mirror the moment a vehicle enters this blind spot.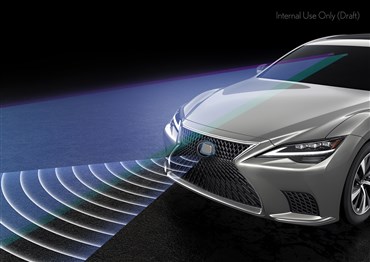 Pre-Crash Safety System
To help prepare for and avoid potential front collisions, the available Pre-Collision System includes a Driver Attention Monitor that is designed to warn you if you're facing away from the road when an obstacle is detected ahead. Should it determine a frontal collision is likely, it's designed to automatically prepare Brake Assist for increased braking response and can even automatically begin braking under certain conditions.
WARRANTY
Every Lexus is backed by a comprehensive manufacturer warranty that should give you kilometers and kilometers of confidence covering either 4 years or 100,000km (whichever occurs first).
Disclaimer
BUMC s.a.l. reserves the right to modify the information contained in this site at any time without notice. While BUMC s.a.l. makes all reasonable efforts to ensure that all material on this site is correct, accuracy cannot be guaranteed and does not assume any responsibility for the accuracy, completeness or authenticity of any information contained in this site.
• This site and all information and materials contained herein are provided to you as is without warranty of any kind.
• BUMC s.a.l. is not responsible for information contained on Lexus models on independent websites and cannot confirm its validity.
• All information, imagery and videos are copyrighted and cannot be replicated or used.
• Photos are for illustration purposes only.
* The SRS (Supplemental Restraint System) airbags are supplemental devices to be used with the seatbelts. The driver and all passengers in the vehicle must wear their seatbelts properly at all times. Never install a rear-facing CRS (Child Restraint System) on the front passenger's seat. For a forward-facing CRS, it is recommended you use it in the rear seats. Please do not use accessories for the seats which cover the parts where the SRS side airbags should inflate. Such accessories may prevent the SRS side airbags from activating correctly, causing serious injury (Lexus genuine seat covers are specifically designed for models equipped with the SRS side airbags. To find out about availability in your area, please inquire at your local dealer). The photo shows all the SRS airbags activated for display purposes only (the SRS side and curtain shield airbags only inflate on the side of the collision in an actual accident). For details on these and other important safety features, be sure to read the Owner's Manual carefully.
** Please note that Pre-Crash System may in some cases not operate properly due to a variety of road conditions, vehicle conditions, weather conditions, and operation by the driver or pedestrian/bicycle rider conditions. The driver is solely responsible for safe driving. Please enquire at your nearest Lexus Boutique for details on the availability of features.

*** People and obstacles that show in the monitor differ from the actual position and distance. Do not rely completely on the monitor and make sure you check the safety around the vehicle with your own eyes when driving.
THE LS GALLERY
Begin your journey to explore the breathtaking design, craftmanship and flawless finish of a Lexus begins.