One Step Closer to a World Without Accidents
Lexus Safety
Safety is the most utmost priority at Lexus. Every 2020 year model and never models comes standard with Lexus Safety System + - a comprehensive suite of activity safety equipment.
Lexus Safety System+ 3.0
At Lexus - the driver and passengers are of utmost priority. The newest reveal of the Lexus NX equipped with the latest Lexus Safety System+ 3.0 brought yet another leap towards Lexus' ultimate goal: an accident-free world. Newest additions of the latest system include additional abilities to detect motorcycles and oncoming traffic and upgraded cruise control technology. This is the most sophisticated safety system ever included in a Lexus.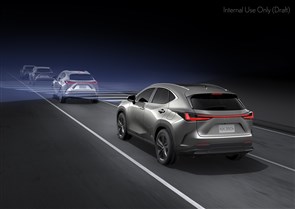 DYNAMIC RADAR CRUISE CONTROL
Employing both radar and camera technology to help maintain the vehicle along a preset speed and following distance from the vehicle ahead. If you get closer than the preset distance, the throttle is automatically reduced and the brakes may be applied. As soon as the road ahead clears, your Lexus returns to its preset speed.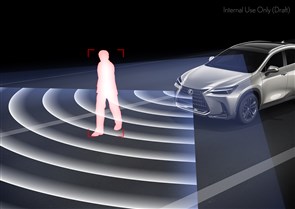 INTELLIGENT HIGH BEAMS
To help provide greater visibility for the driver as well as other drivers, this system offers added illumination to help keep you focused on the road ahead. When the road ahead is clear, the system defaults to high-beam mode, then temporarily switches to low beams when it detects the headlamps or tail-lamps of vehicles ahead.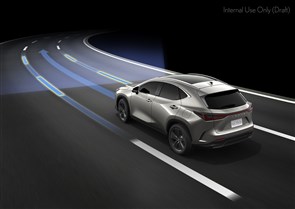 LANE ASSISTANCE
Lane Departure Alert is designed to provide an audible alert if an inadvertent lane departure is detected. The system helps prevents drifting before it occurs. Lane Tracing Assist is a hands-on system designed to help the driver keep their vehicle centered in the lane, even in traffic and on highways with gradual curves. In certain models, the lane-assistance technologies can also recognize vehicles ahead.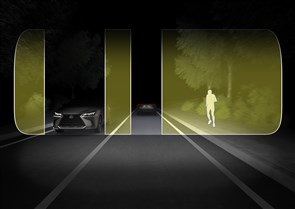 PRE-COLLISION SYSTEM
Pre-Collision System with Pedestrian Detection that's engineered to help detect a vehicle or pedestrian in the path of your Lexus under certain conditions.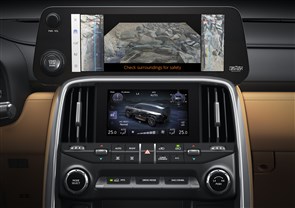 VISIBILITY SYSTEMS
For increased awareness, Lexus vehicles offer numerous ways to help visualize the surroundings. From back-up cameras with dynamic gridlines for parking and maneuvering, to available features like a Multi-Terrain Monitor that offers a convenient under-vehicle view, or the bird's eye perspective enabled by the four high-resolution cameras of the Panoramic View Monitor. Lexus vehicles can help bring your surroundings into focus.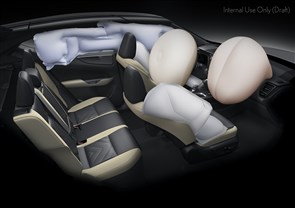 AIRBAGS
Built for the people they protect - Lexus airbags are so advanced, they're designed to detect the seat-track position of the driver and front passenger and deploy accordingly.
ROAD SIGN ASSIST
The Road Sign Assist uses a built-in camera to help provide certain road sign information in the instrument panel or in certain Lexus vehicles even on the available Head-Up Display. In addition to displaying speed limit information, the system can alert you to certain signs you may have missed.
ADVANCED DIGITAL CRASH TEST
Lexus performs extensive crash testing in order to engineer and build safety in each vehicle. The digital model called, the Total Human Model for Safety - is such a breakthrough that it is shared with more than a dozen other automakers and research labs around world.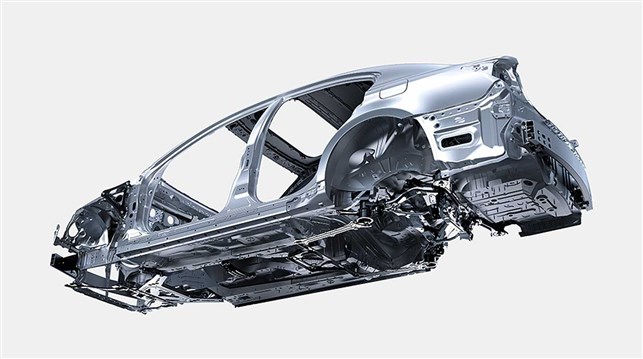 REINFORCED MATERIALS & CRUMPLE ZONES
Lexus vehicles are designed to with everything from impact-dispersing reinforcements to energy-absorbing crumple zones to distribute impact force, helping to maintain the integrity of the cabin.