TRACK-GRIPPING
Engineered for peak performance and offering new technology, the IS300 wields a powerful 241 horsepower and a heart-throbbing turbo engine. The IS turn heads with pure sports credentials, and the 'Aggressive Sports' design further advances its powerful athletic character.
MEET THE IS
The IS's dramatic statement of sporting intent is instantly compelling, its powerful stance and flowing lines projecting a vital sense of forward movement. The dynamic presence of the front face creates a clear contrast between a fresh evolution of the iconic Lexus spindle grille in the center, and the power expressed by the solid corners that connect the front bumper and fenders. The continuous lines of the high xenon headlamps accentuate the sharpness of L-shaped LED DRL (Daytime Running Lamp). From the sides, the athletic stance is boosted by its 17-inch alloy wheels and tinted glass that boast a low reflection and UV-Cut function.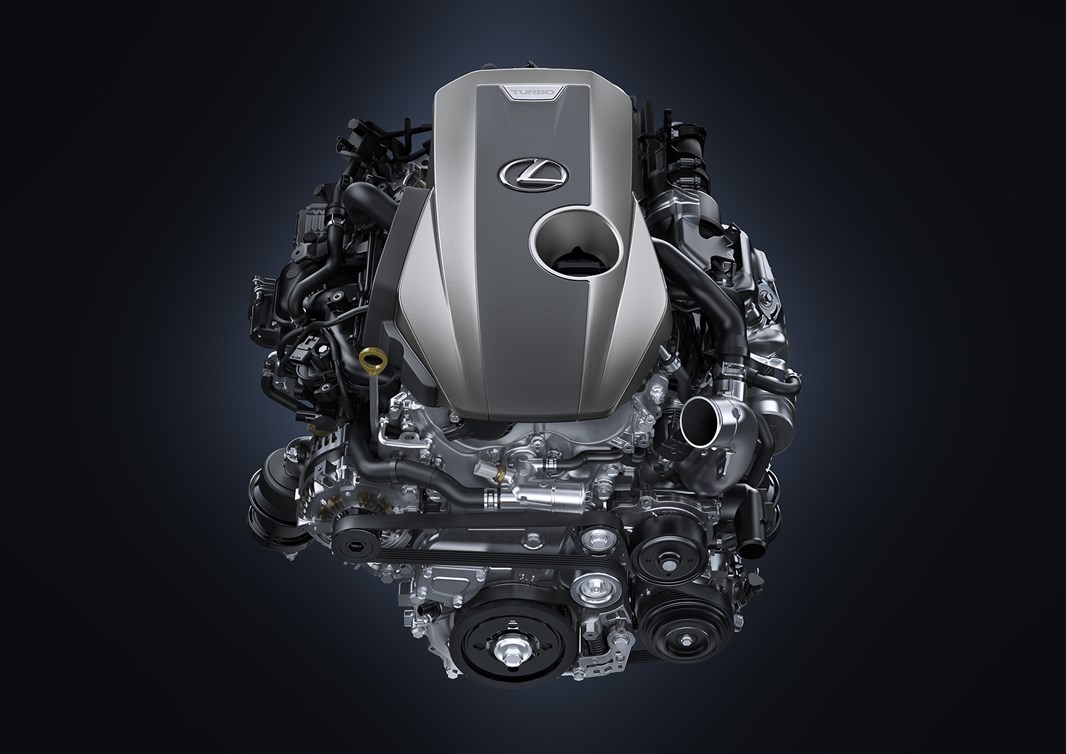 ENGINE & MECHANICAL FEATURES
2.0-Litre 4 Cylinder Turbo
Max Output: 241 HP @ 4,800-5,600 RPM
Max Torque: 350 NM @ 1,650-4,000 RPM
8-Speed-Sport Direct Shift Gearbox
Multi Drive Mode Function (Sport, Eco)
66L Fuel Tank Capacity

KEY FEATURES
Performance Driving Modes
Customize you dose of adrenaline. Drive Mode Select enables you to makes your IS more responsive or efficient with the simple turn of a dial.
Paddle-Shift Transmissions
Advanced paddle-shift transmissions put the exhilarating performance of the IS models at your fingertips.
8-Inch Multimedia Display
This function coordinates the display of information from the multimedia systems on the 8-inch EMV (Electro Multi-Vision) display in the center of the instrument panel and the 4.2-inch color TFT (Thin Film Transistor) multi-information display in the center of the meter cluster. For convenience and easy control, audio system, incoming mobile calls, and some navigation information on the EMV display can be displayed on the multi-information display, and controlled using switches on the steering wheel.

Two USB Ports/Mini-Jack
The audio system is equipped with two USB ports, one that enables the playing of music on connected USB devices in a number of data formats, including MP3 and WMA (Windows Media Audio), and one that can be used for charging smartphones and other devices.
Touch-Based Climate Controls
Change the cabin temperature with a swipe of your finger.
Bluetooth, Hands-Free System with Voice Recognition System
The safest way to stay communicated while on the road is the Lexus' Bluetooth Hands-Free System that recognizes the driver's voice for facilitated use.
Rear-View Camera
Park safely with the IS's rear camera that assists at every angle with front and rear sensors.
TECHNOLOGY
The IS has been carefully engineered with science to ensure that every component is designed to provide a smooth, quick and responsive performance both on and off the track. The IS innovative combination of engine technologies has been designed to provide a high level of responsiveness with minimal turbo lag and enhanced low speed torque. The interior cockpit-like design features premium materials and a highly functional dashboard consisting climate control fixtures, audio and entertainment systems that suggest the futuristic direction of Lexus.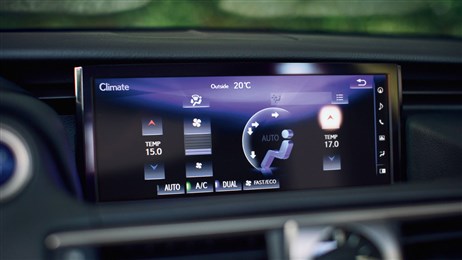 High Resolution Display
A 10-inch high-resolution display is perfectly positioned to provide guidance and information for a more relaxing drive. Operated by voice command for mobile calling or Remote Touch, the display has a split-screen option to prioritize information.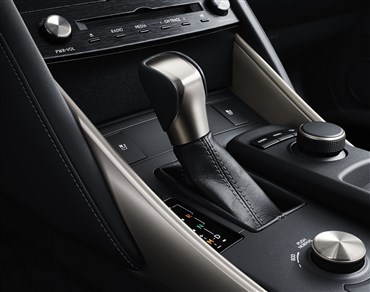 7-Inch Lexus Display Audio
The Lexus Display Audio controller enables 8-direction joystick, push-button and dial operation for advanced control of the audio system. A knurled finish on the controller knob provides good grip for easy operation.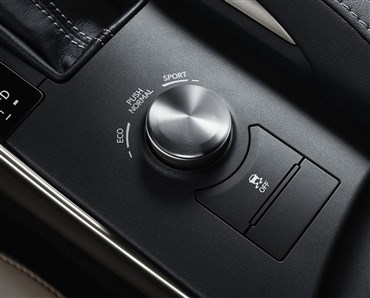 Drive Mode Select
Drive Mode Select provides integrated control of multiple systems to let you tune performance to suit your driving style. You can select and change between four modes: Normal, Eco, Sport/Sport S, and Sport S+ Modes. In addition, Customize Mode enables drivers to set their preferred settings for the powertrain, AVS, EPS and air conditioning.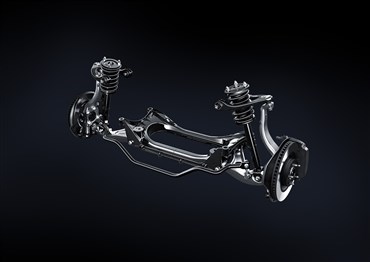 Front & Rear Suspension/Performance Damper
Individual components in the double wishbone front suspension and multi-link rear suspension were optimized to deliver sports driver-friendly characteristics, for agile yet stable driving, with superb grip and excellent response to steering input. The use of aluminum for the front arms realizes both lightweight and high rigidity. A front performance damper enhances rigidity and vibration damping performance, to realize exceptional handling stability at the heart of sports driving enjoyment.
COMFORT & DESIGN
Stating its pure sports credentials, the 'Aggressive Sports' design further advances the powerful athletic character of the IS. The IS's dramatic statement of sporting intent is instantly compelling, its powerful stance and flowing lines projecting a vital sense of forward movement. In the spacious cabin, the Lexus L-finesse design philosophy shapes a driver-oriented cockpit worthy of a sports sedan. The feeling of sports control is heightened by a focus on functionality in the clear information provided by the 2-eye Optitron meters and 8-inch EMV (Electro Multi-Vision) display, and refined touches that include the choice of materials, accent stitching, and design of the steering wheel and shift lever.
INTERIOR
The driver-oriented cockpit is focused on sports driving pleasure, blending advanced functionality, sophisticated amenities and quality details in a refined expression of Lexus luxury.

Steering Wheel Control Switches
Switches integrated in the steering wheel provide quick control of the multimedia systems without taking your hands off the wheel. Their square shape enables easy recognition of top/bottom and left/right operating directions. The metal ornamentation provides a stylish finish.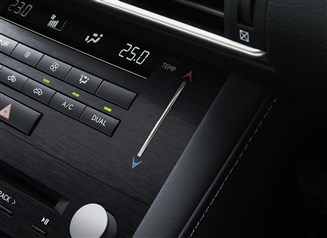 Electrostatic Temperature Control Switches
The innovative electrostatic temperature controls located in the center console enable quick and intuitive operation of the air conditioner with the touch of a finger. To optimize individual comfort, temperature settings for the driver and front passenger seats can be set separately.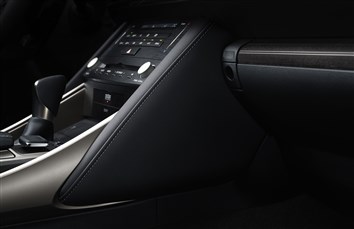 Knee Pads
The large knee pads wrap around the air conditioning and audio system control panels with hairline finish on both sides of the center console to provide support during sports driving.
LED rear combination lamps:
The Bi-Beam LED headlamps switch between low and high beam to generate a bright light for excellent visibility at night, while reducing power consumption. The arrowhead-shaped LED DRL emits a subtle Lexus signature.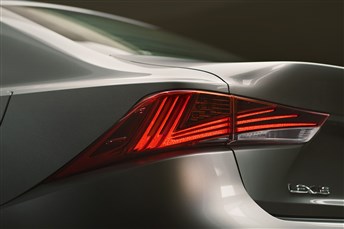 17" Inch Alloy Wheel
17" inch Alloy Wheel with 225/45/R17 Tires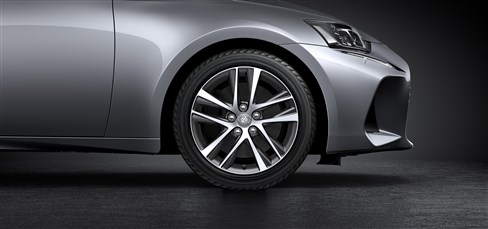 Spindle Grille
The IS features a dynamic spindle grille, creating a strong design that exudes incisive elegance.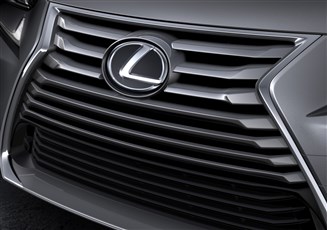 EXTERIOR
Bold and dynamic, the muscular stance and athletic lines project a sporting attitude, instantly building anticipation of thrilling sports driving pleasure.
PERFORMANCE
With a turbocharger designed in-house, it provides robust power, low-end and torque and responsive performance you can feel the moment you accelerate. Pure sports driving pleasure is a core strand of the IS's DNA, a heart-moving expression of the fun-to-drive philosophy experienced each time you get behind the wheel. To realize an authentic sports driving experience, the innovative approach to developing the IS focused on the driver. The low hip position of the driver's seat and optimizing the steering wheel position contribute to a linear feel of vehicle behavior, for relaxed and intuitive sports driving control.


SAFETY
Enhancing driving pleasure, the IS integrates advanced active and passive safety measures to help assist safe driving and give peace of mind.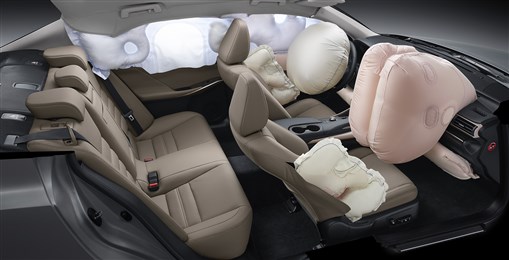 SRS Airbags
The IS features dual-stage SRS airbags (Front seats), SRS knee airbags (Front seats), SRS side airbags (Front seats), and SRS curtain shield airbags (Front and rear door windows).*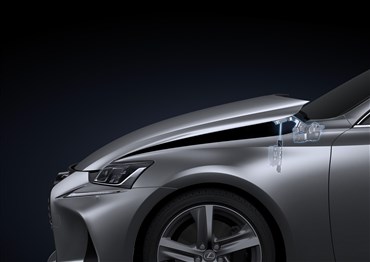 PUH (Pop Up Hood)
The innovative PUH helps to provide pedestrian protection in the event of a frontal collision, and at the same time enables a sporty design with a low hood line. When the sensors mounted in the front bumper determine that the vehicle has collided with a pedestrian, the hood instantly pops up to create a space to absorb the impact force.

Front and Rear Park Sensor
To make parking even easier, sensors in the front and rear bumper link with an in-car beeper to warn of obstacles in your way. The beeper can be turned off when not required.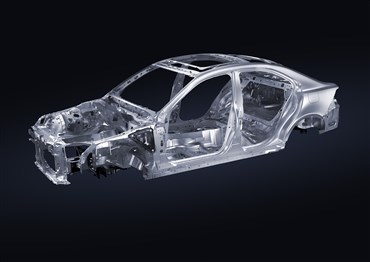 Chassis
The foundation for the IS's agile sports handling, stability and smooth ride comfort is a lightweight body structure with outstanding rigidity and vibration damping characteristics. It was made from hot-stamp, high-tensile steel sheeting for reinforcements and critical components, using innovative production technologies that include body adhesives and laser screw welding.


WARRANTY
Every Lexus is backed by a comprehensive manufacturer warranty that should give you kilometers and kilometers of confidence covering either 4 years or 100,000km (whichever occurs first).
Disclaimer
BUMC s.a.l. reserves the right to modify the information contained in this site at any time without notice. While BUMC s.a.l. makes all reasonable efforts to ensure that all material on this site is correct, accuracy cannot be guaranteed and does not assume any responsibility for the accuracy, completeness or authenticity of any information contained in this site.
• This site and all information and materials contained herein are provided to you as is without warranty of any kind.
• BUMC s.a.l. is not responsible for information contained on Lexus models on independent websites and cannot confirm its validity.
• All information, imagery and videos are copyrighted and cannot be replicated or used.
• Photos are for illustration purposes only.

* The SRS airbags are supplemental devices to be used with the seatbelts. The driver and all passengers in the vehicle must wear their seatbelts properly at all times. Never install a rear-facing CRS (Child Restraint System) on the front passenger's seat. For a forward-facing CRS, it is recommended you use it in the rear seats. Please do not use accessories for the seats which cover the parts where the SRS side airbags should inflate. Such accessories may prevent the SRS side airbags from activating correctly, causing serious injury (Lexus genuine seat covers are specifically designed for models equipped with the SRS side airbags. To find out about availability in your area, please inquire at your local dealer). The photo shows all the SRS airbags activated for display purposes only (the SRS side and curtain shield airbags only inflate on the side of the collision in an actual accident). For details on these and other important safety features, be sure to read the Owner's Manual carefully.
sed.

GALLERY
Discover an innovative approach to performance driving and exhilarating experiences with the IS.