Captivating Style
LEXUS ES300 HYBRID
World-class luxury meets luxury with two lightning-fast electric motors, a potent 2.5-liter engine with a total combined output of 215 hp with 211 NM torque – it's not only the most powerful ES hybrid ever, it's the most fuel-efficient self-charging luxury vehicle. The ES luxury elevated style with an interior trimmed in perforated leather, wood accents and inviting ambient lighting.
The exciting new Lexus ES shatters preconceptions about executive saloons. Benefitting from a brave new approach to design, made it lower, wider and sleeker. Combining a stunning coupé-like silhouette with the roominess and refinement of a flagship saloon, the ES delivers elegance and comfort in one exceptional vehicle. The brand's tireless pursuit of emotional design, exceptional comfort and class-leading performance was endorsed recently when the Lexus ES 300h was honored in the 'Best Midsize Luxury Sedan' category at the 2019 Middle East Car of the Year (MECOTY) awards.
18'' Alloy Wheels
Designed to stand out – these alloy wheels benefit from an intricate U-shaped spoke design that emits a sharp and bold sporty profile.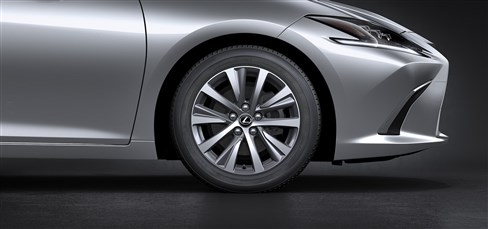 LED Rear Combination Lamps
The L-shaped rear combination lamps reinforce the ES's Lexus identity. The three-dimensional design was engineered to combine high visibility with distinctive style.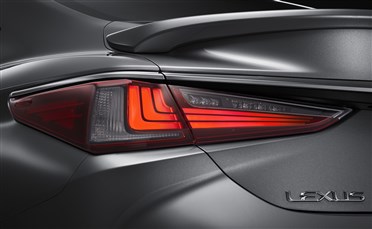 Aerodynamic Design
Innovative measures were taken underneath and on the sides of the ES to help direct airflow smoothly around the body, helping contribute to fuel efficiency, reduced noise and vibration, and enhanced handling and high-speed control.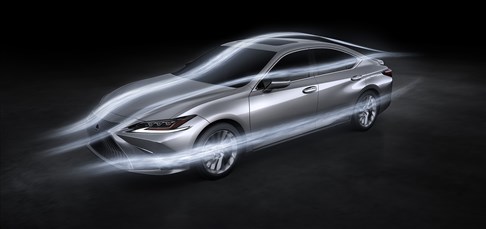 EXTERIOR
The flowing roof line that slopes towards the rear complements the balanced proportions and accentuates the wide, low stance. The sharp front face and rich contrast of the side profile contribute to a powerful presence that invites you to experience exhilarating driving.
INTERIOR
The interior provides a comfortable, human-centered space. Controls in the snug cockpit have been laid out so that drivers don't need to change their line of sight or posture, while passengers enjoy a calm, relaxing space with ample legroom.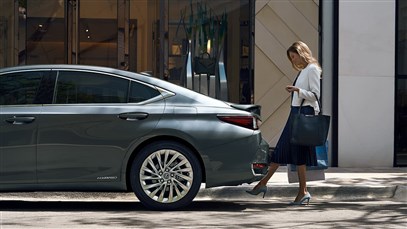 Power Open/Close Trunk with Kick Sensor
The power trunk can be opened and closed using a button on the key fob, on the trunk lid and next to the steering wheel. For added convenience when your hands are full, the open/close function can be performed by waving your foot under the rear bumper.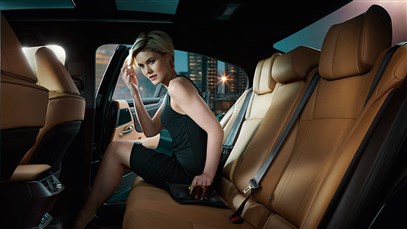 Class-Leading Rear Legroom
You don't have to sit in the driver's seat to appreciate the interior design of the ES. Making the most of the additional space provided by an extended platform.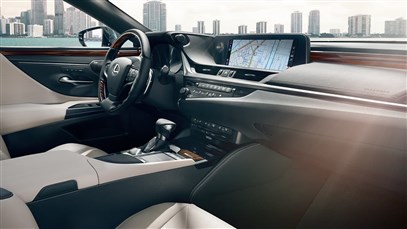 12.3-Inch Screen
Enjoy unprecedented convenience and entertainment with integrated features in the 12.3-inch Navigation System with a ten speaker audio system equipped with radio, CD, USB, AUX, Bluetooth and Miracast (mobile screen mirroring).
The all-new Lexus ES continues the expression of the brand's design direction and commitment towards crafting vehicles with heightened excitement, emotion, and passion. The vehicle's distinct personality is completed by its exquisite interior, which offers an array of advanced features that create a refined cabin experience. These include a 12-inch enhanced in-vehicle multimedia display with navigation, 7-inch color TFT display in the gauge cluster, wireless charging system for smartphones, a hands-free power trunk lid, a rear armrest with multi-operatio panel among other luxury features. Inside and out the ES combines dynamic design with world-class luxury with the option of an exceptionally efficient hybrid powertrain.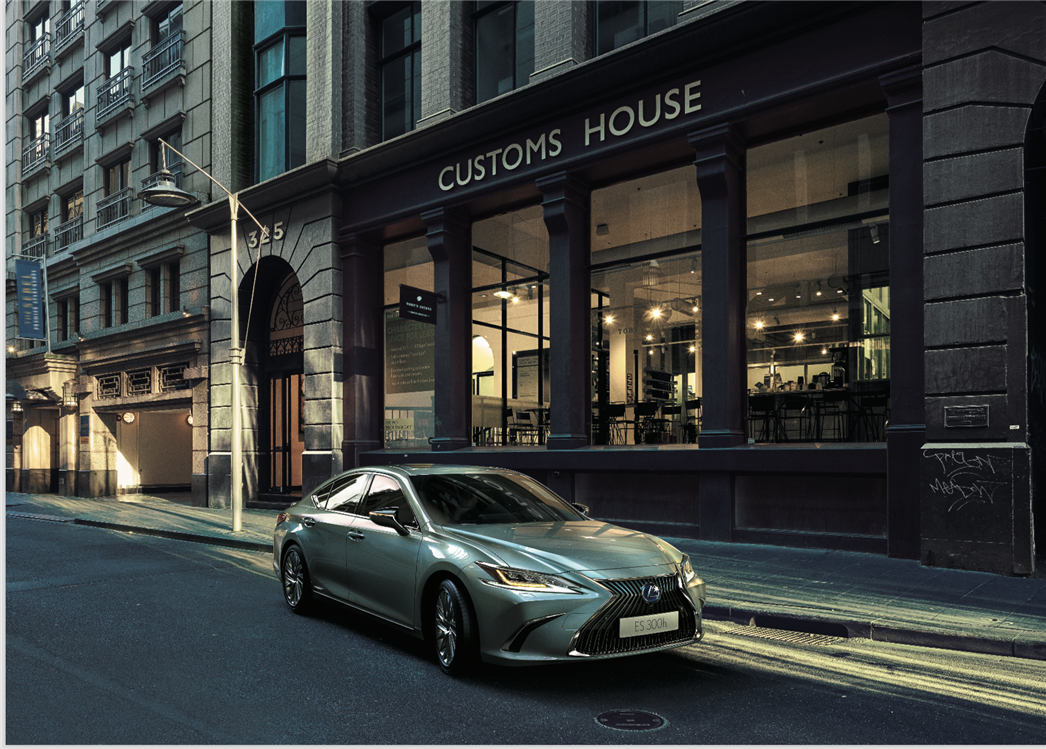 MEET THE ES
KEY FEATURES
Variable Driving Modes
Drive Mode Select makes your ES more responsive or efficient with the simple turn of a dial.
Remote Engine Starter
This option allows you to start your engine from outside the vehicle. In addition, the Remote Engine Starter can activate the heater or air conditioner according to your preset temperature controls, providing you with a comfortable cabin upon entry.
Spacious Interior
Experience luxury, reimagined with available heated and ventilated seats, ambient lighting and class-leading rear legroom.
Hybrid Performance
Touting world-class luxury with not only most powerful ES hybrid ever, it's the most fuel-efficient self-charging luxury vehicle.
Dual-Zone Climate Control
Customize the climate around you. Individual settings allow the driver and front passenger to adjust their preferred temperatures.
Connectivity
With innovations like Radio, Bluetooth® audio, automatic phone book transfer, the ES delivers connectivity that anticipates your every need to keep you focused on the road ahead.
Hypnotizing New Look
Thanks to its chassis, the ES displays an elegant side profile, wide stance and low centre-of-gravity. Additionally, and its sleek coupé roofline notwithstanding, our executive saloon delivers legroom and space for passengers.
ENGINE & MECHANICAL FEATURES
⦁ 2.5L 4-Cylinder Hybrid (Gasoline + Electric) with ECVT Transmission EV/Eco/Normal/Sport Modes
⦁ Gasoline Engine: 175 HP with 221 NM Torque
⦁ Hybrid Battery: 118 HP & 202 NM Torque
⦁ Total Combined Output: 215 HP with 221 NM Torque
⦁ Front Wheel Drive
⦁ Fuel Tank Capacity: 50L

EXPERIENCE THE ES
Relining the advanced levels of luxury and utility experienced in the previous generation model enables the driver and passangers to njoy premium comfort, for a quoality of luxury comfort that is consistently a step ahead.
TECHNOLOGY
The Lexus ES features innovating technology, including a suite of safety features, Bluetooth®, 12.3-inch navigation system with ten speaker audio system, climate control and more. Even the platform of the ES has been redeveloped entirely by Lexus to create a foundation of excellence. The GA-K (Global Architecture-K) platform has several key engineered components to improve design, performance, ride quality, quietness and safety. To further enhance stability and safety, Lexus engineers also used hot-stamp and high-tensile steel in key body components using advanced manufacturing technologies.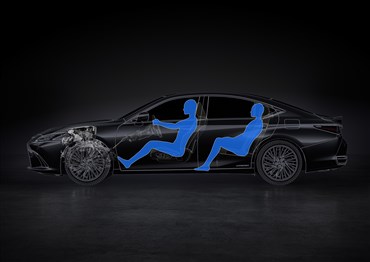 GA-K (Global Architecture-K) Platform
Lexus developed a new platform for the ES from scratch to create the foundation for excellence. To augment the vehicle's excellent DNA with its a low center of gravity and uniform lateral weight distribution, the geometry of the high-rigidity body and chassis were optimized to deliver excellent straight-line driving stability, stable cornering, and braking stability. In addition, the integration of advanced features including the newly-developed parallel rack EPS (Electric Power Steering), AVS (Adaptive Variable Suspension system), and performance dampers provide secure and pleasant handling that closely responds to the driver's intentions. Finally, vibrations were blocked to reduce noise and ensure a comfortable ride.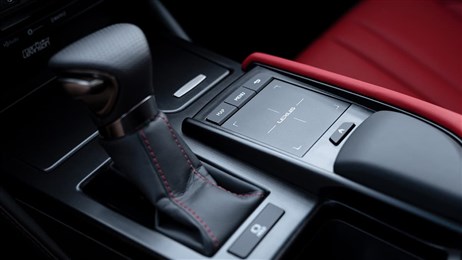 Remote Touchpad:
More than a convenient way to access multimedia, climate controls and Navigation, the Remote Touchpad mimics smartphone operations with ample touch surface area, pulsation feedback, and intuitive pinch, swipe and flick gestures—even integrating handwritten input. Drivers can also quickly access submenus when on screens with multiple options.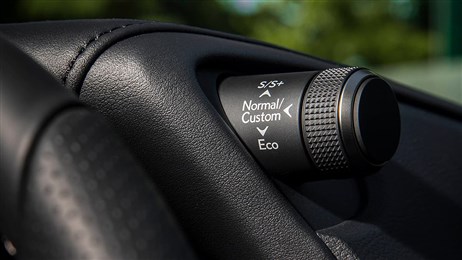 Drive Mode Select
Drive Mode Select enables you to make your vehicle more responsive or efficient with a simple turn of a dial. Sport mode alters the powertrain for faster and more dynamic throttle response. Normal mode provides the optimal balance of fuel efficiency and engine performance. ECO mode moderates the throttle response, engine power output and climate settings for increased fuel efficiency.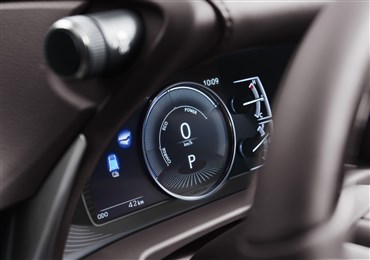 7-inch Color TFT Display
The ES offers a 7-inch full-color, the largest available in its class. It can project key information including speed, current gear and rpm onto the windshield. Display information can also be adjusted to suit the driver.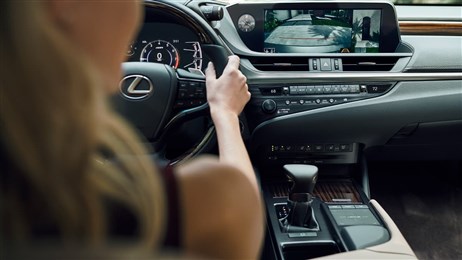 Panoramic View Monitor
Four high-resolution cameras mounted on the front, sides and rear of the vehicle give drivers a bird's-eye view of the near environment. Moving View and See-Through View options create a composite image of the vehicle's surroundings as on-screen guides help assist with parking and tight maneuvering.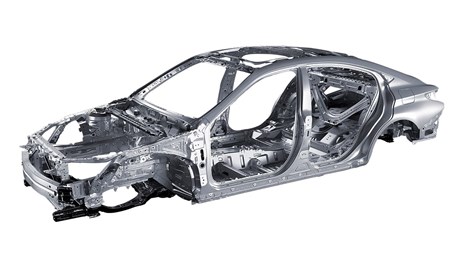 Right Body Structure With Crumple Zones
Helping to dissipate the force of a collision, crumple zones in the front and rear are intentionally designed to compress at a controlled rate, helping protect occupants within the more rigid passenger compartment. To assist safe reversing, RCTA uses quasi-millimeter-wave radars in the rear bumper to detect approaching vehicles in difficult-to-see areas behind the vehicle. when an approaching vehicle is detected, RCTA alerts the driver using a buzzer and indicator in the relevant door mirror.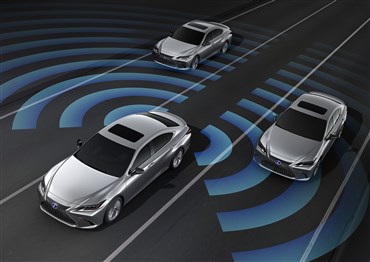 Blind Spot Monitor With Rear Cross-Traffic Alert
To help you change lanes with confidence, the available Blind Spot Monitor is designed to detect and warn you of vehicles approaching or positioned in adjacent lanes. Intuitive Parking Assist uses sensors that are designed to detect surrounding objects and notify you of a detected object's location and proximity, while Rear Cross-Traffic Alert can help when backing out of a parking space.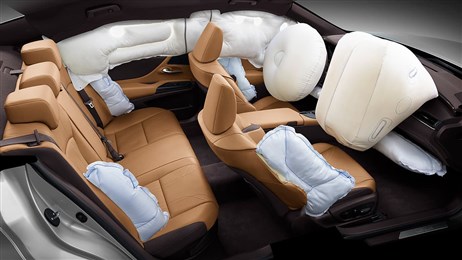 SRS Airbags
10-Airbags: The front-passenger seat is designed to detect whether the seat is occupied by an adult or a child, or is vacant. In case the system detects a child or empty passenger seat, the system prevents the passenger's front, side and knee airbags from being deployed. The front passenger's airbag features two chambers, creating an indentation in the center impact area that helps to provide occupant protection in a severe frontal collision.



WARRANTY
Every Lexus is backed by a comprehensive manufacturer warranty that should give you kilometers and kilometers of confidence covering either 4 years or 100,000km (whichever occurs first).
BUMC s.a.l. reserves the right to modify the information contained in this site at any time without notice. While BUMC s.a.l. makes all reasonable efforts to ensure that all material on this site is correct, accuracy cannot be guaranteed and does not assume any responsibility for the accuracy, completeness or authenticity of any information contained in this site.
• This site and all information and materials contained herein are provided to you as is without warranty of any kind.
• BUMC s.a.l. is not responsible for information contained on Lexus models on independent websites and cannot confirm its validity.
• All information, imagery and videos are copyrighted and cannot be replicated or used.
• Photos are for illustration purposes only.

* The SRS (Supplemental Restraint System) airbags are supplemental devices to be used with the seatbelts. The driver and all passengers in the vehicle must wear their seatbelts properly at all times. Never install a rear-facing CRS (Child Restraint System) on the front passenger's seat. For a forward-facing CRS, it is recommended you use it in the rear seats. Please do not use accessories for the seats which cover the parts where the SRS side airbags should inflate. Such accessories may prevent the SRS side airbags from activating correctly, causing serious injury (Lexus genuine seat covers are specifically designed for models equipped with the SRS side airbags. To find out about availability in your area, please inquire at your local dealer). The photo shows all the SRS airbags activated for display purposes only (the SRS side and curtain shield airbags only inflate on the side of the collision in an actual accident). For details on these and other important safety features, be sure to read the Owner's Manual carefully.
** People and obstacles that show in the monitor differ from the actual position and distance. Do not rely completely on the monitor and make sure you check the safety around the vehicle with your own eyes when driving.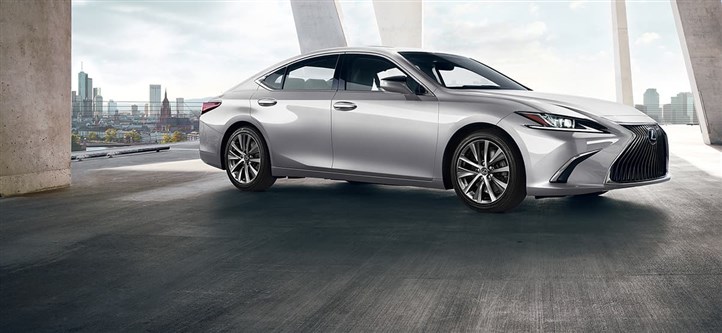 Lexus ES350
The ES350 is available in a gasoline package built entirely new from the ground up. Featuring a linger, wider stance and a sleek coupe-like silhouette inherited from the flagship LS. With innovative technology and a more powerful engine, this generation ES builds on its reputation of luxurious comfort with added performance.