VISIONARY CROSSOVER
The Lexus NX takes luxury and form to another level with class-leading features and sharper handling performance. With added features and an impressive specification list – the NX full options complements your lifestyle. Discover why the fully loaded compact crossover raised the bar for its entire category.
MEET THE NX
The striking angles and smoothly flowing contours of the NX lend it a distinct visual appeal. From its dramatic spindle grille and L-themed headlights to a body that appears carved from a single chunk of metal, there will be no mistaking the NX for anything else in its class. The NX's advanced turbocharged 235-hp, 2.0-liter engine combines fuel efficiency with outstanding power output, generating exhilarating acceleration for sporty driving, together with exceptional fuel economy.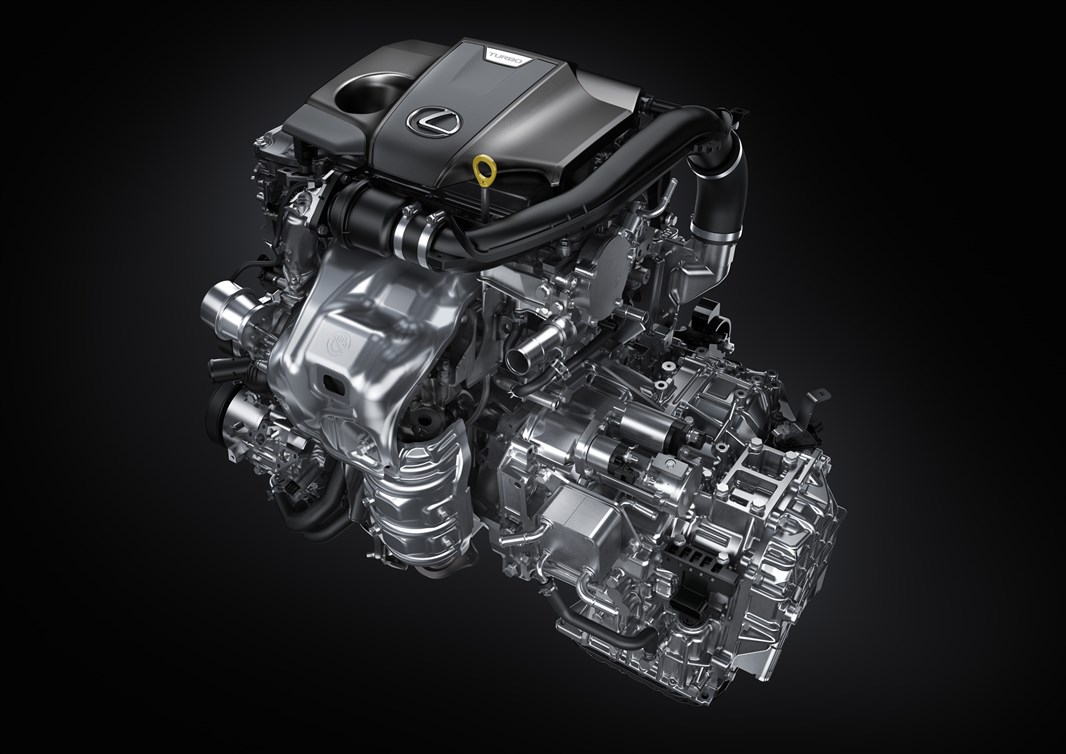 ENGINE & MECHANICAL FEATURES
⦁ 2.0-litre In-line 4 Turbo
⦁ Max Output: 235 HP / 4800-5600 RPM
⦁ Max. Torque: 350 NM / 1650 RPM
⦁ 6-Speed-Sequential Gearbox with Paddle Shifters
⦁ All Wheel Drive
⦁ 60L Fuel Tank Capacity

KEY FEATURES
Panoramic Sunroof
The NX full options package comes fitted with a panoramic sunroof that adds a feeling of freedom, spaciousness and light.
Standard Package Available
The NX is also available in a standard package for more affordable luxury without sacrifice.
Variable Driving Modes
Drive Mode Select makes your NX more responsive or efficient with a simple turn of a dial.
Expansive Luggage Area
The NX cabin design accommodates cargo with an expansive luggage area with an area so large that it can accommodate four golF bags stowed sideways.
Dual-Zone Climate Control
Customize the climate around you. Individual settings allow the driver and front passenger to adjust their preferred temperatures.
Advanced Safety Features
The NX comes equipped with a comprehensive range of safety features, including seven airbags, Blind Spot Monitor and Whiplash Injury Lessening Front Seat Backs.
Dynamic Display
The 4.2-inch multi-information display in the gauge cluster presents essential information and detailed performance data.
Unprecedented Connectivity
With innovations like Radio, Bluetooth® audio, automatic phone book transfer, the NX delivers connectivity that anticipates your every need to keep you focused on the road ahead.
The Power of Turbo
A 2.0-litre turbocharged engine delivers dynamic performance by using an advanced valve control system to switch between Atkinson cycle and Otto cycle operation.
TECHNOLOGY
The array of technological innovations fitted in the NX set new standards for future Lexus models, with first-ever application of the Lexus Remote Touch Interface with a touch pad, letting the driver access functions without changing the driving position or taking his/her eyes away from the view in front of the vehicle. The suite of safety and entertainment features onboard the NX include the premium audio system, automatic phone book transfer, and various leading safety features.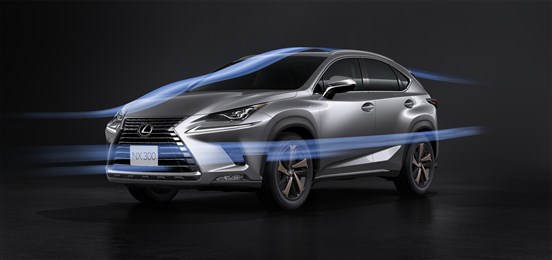 Aerodynamics
The NX's superb aerodynamics contribute to fuel-efficient performance and quiet comfort in the cabin, even during high-speed driving. Careful attention paid to reducing drag, including an integrated rear spoiler, spats for all four wheels, and the engine, floor, lower arm and rear underbody covers, contributes to a smooth airflow.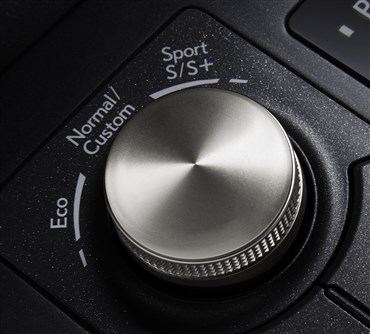 Drive Mode Select
Drive mode select provides integrated control of multiple systems to let you tune performance to suit your driving style. On vehicles equipped with AVS (Adaptive Variable Suspension system), you can select and change between Normal, Eco, Sport and Sport S+ Modes. In addition, Customize Mode enables drivers to set their preferred settings for the powertrain, AVS, EPS (Electric Power Steering) and air conditioning.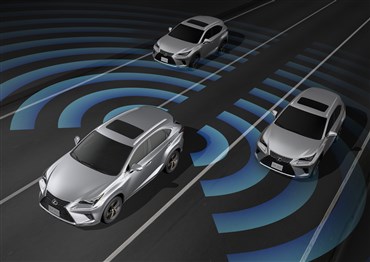 Blind Spot Monitor System
When the quasi-millimeter-wave radars in the rear bumper detect vehicles in adjacent lanes that aren't visible in the door mirrors, the system activates a warning indicator in the relevant door mirror the moment a vehicle enters this blind spot.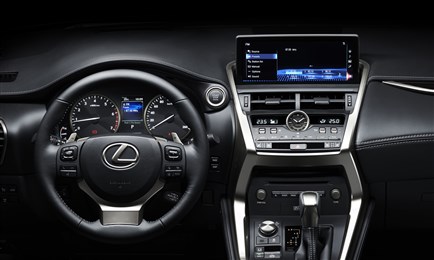 Multimedia Coordination Function
This function coordinates the display of information from the multimedia systems on the 8-inch EMV (Electro Multi-Vision) display in the center of the instrument panel and the 4.2-inch color TFT (Thin Film Transistor) multi-information display in the meter cluster. For convenience, audio system information, incoming mobile calls, and some navigation on the EMV display can also be displayed on the multi-information display, and controlled using switches on the steering wheel.
COMFORT & DESIGN
The NX was developed around the core concept of 'Premium Urban Sports Gear', a next-generation Lexus that applies an urban focus to luxury SUVs. The compact crossover fuses superb agility and dynamic individuality with spacious functionality for a fresh sporting spirit.
INTERIOR
Stepping into a NX will feel like stepping into a sports car. Structural elements with luxurious yet functional materials and textures. The center console is the undeniable focal point, framed by bold silver-colored architectural elements and featuring kneepads on both sides. Leather-wrapped metal over high contrast metallic colors provides visual depth. The NX 300 dashboard and console continue the Lexus concept of display and operational zones. The seats, inspired by sports car design, coddle driver and passenger as you'd expect from a Lexus.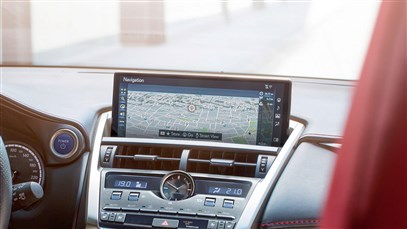 Micro SD Card for Lebanon Navigation Map
With vivid 3D graphics and multiple mapping options, the 8-inch screen is operated by Touch Pad or voice commands. The system can even generate a QR code for your smartphone, to help you reach your final destination on foot.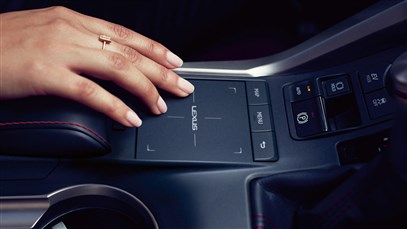 Touch pad control
The intuitive Touch Pad lets front seat occupants interact with the central 8-inch display. It's as easy to use as a smartphone or tablet.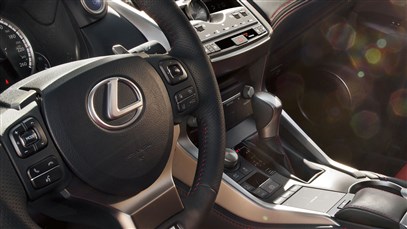 Leather Steering Wheel
A beautifully crafted leather steering wheel features finger rests and a cross section optimized to fit comfortably in your hands. Integrated switches control – where specified – audio, telephone, multi-information display, and Adaptive Cruise Control.
Alloy Wheels
The black mirror chrome finish and high performance 10-spoke design create an unmistakable look of urban sophistication.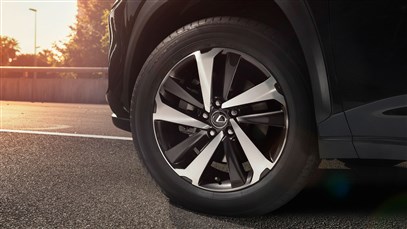 Three-Eye Bi-Beam LED Headlamps
The ultra-small 3-eye Bi-Beam LED headlamps combine advanced design with excellent light distribution. LEDs in the sequential turn signal lamps illuminate sequentially in a flow from the inner side to the outside of the vehicle.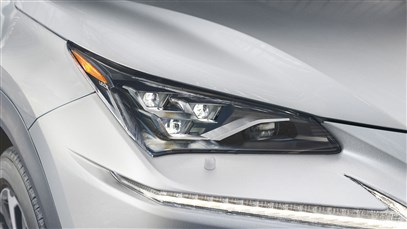 Panoramic Glass Roof
The NX full options package comes fitted with a panoramic sunroof that adds a feeling of freedom, spaciousness and light.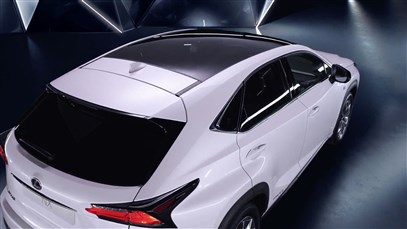 EXTERIOR
The look and feel of Lexus luxury design begins before you enter the NX. A single LED elegantly streams a welcoming beam of light along the top of the handle and also to the ground as the driver approaches the vehicle. The vehicle also encompasses an innovative outer mirror and a world-first door handle mechanism with hidden key barrel.
PERFORMANCE
Powering the NX 300 will be Lexus' powerful and fuel-efficient turbocharged 2.0-liter inline-4 engine. Producing 235 hp at 4800-5,600 rpm with 35.7 kg-m of torque from 1,650-4,000 rpm, the engine features Torque-Demand control logic to calculate required engine torque to deliver a quick response and an exhilarating acceleration feel. The engine is also mated with a super intelligent 6-speed automatic transmission.
SAFETY
Reflecting Lexus' utmost commitment to passenger safety, the new NX 300, comes equipped with a comprehensive suite of active and passive safety features complemented with the addition of the preventive safety which integrates active safety technologies, such as the Blind Spot Monitor (BSM), Rear View Camera and Tire Pressure Warning System (TPWS), to name a few.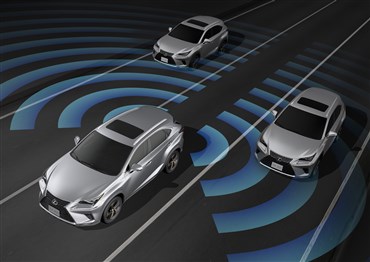 Blind Spot Monitor System
When the quasi-millimeter-wave radars in the rear bumper detect vehicles in adjacent lanes that aren't visible in the door mirrors, the system activates a warning indicator in the relevant door mirror the moment a vehicle enters this blind spot.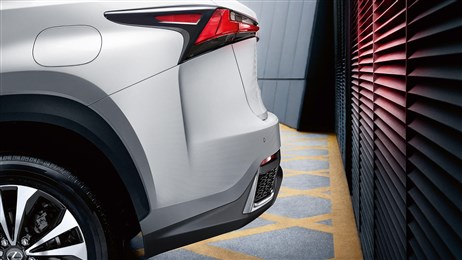 Front & Rear Park Sensors
To make parking even easier, sensors in the rear bumper link with an in-car beeper to warn of obstacles in your way. The beeper can be turned off when not required. Engage reverse and the view behind the NX is relayed to the 10-inch display, complete with on-screen guides to assist parking.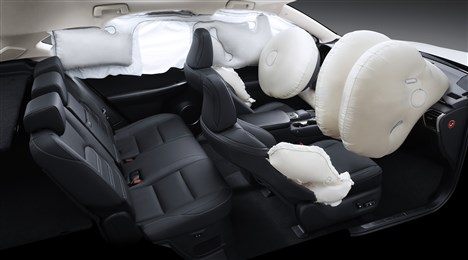 SRS Airbags
The NX features dual-stage SRS airbags (Front seats), SRS knee airbag (Driver's seat), SRS cushion airbag (Front passenger's seat) that supports seatbelt restraint by lifting the front edge of the seat cushion during a frontal collision, SRS side airbags (Front seats), and SRS curtain shield airbags (Front and rear door windows).*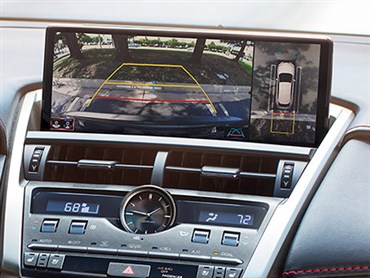 Rearview Camera
When you put the vehicle in reverse, the view from the backup camera is shown on the multimedia display in full color with dynamic gridlines to assist you with parking and other maneuvers.
PACKAGES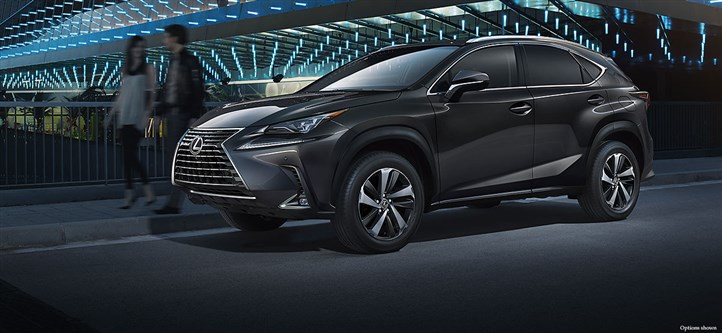 Lexus NX Standard Package
The NX is also available in a standard package for more affordable luxury without sacrifice.
WARRANTY
Every Lexus is backed by a comprehensive manufacturer warranty that should give you kilometers and kilometers of confidence covering either 4 years or 100,000km (whichever occurs first).
Disclaimer
BUMC s.a.l. reserves the right to modify the information contained in this site at any time without notice. While BUMC s.a.l. makes all reasonable efforts to ensure that all material on this site is correct, accuracy cannot be guaranteed and does not assume any responsibility for the accuracy, completeness or authenticity of any information contained in this site.
• This site and all information and materials contained herein are provided to you as is without warranty of any kind.
• BUMC s.a.l. is not responsible for information contained on Lexus models on independent websites and cannot confirm its validity.
• All information, imagery and videos are copyrighted and cannot be replicated or used.
• Photos are for illustration purposes only.

* The SRS (Supplemental Restraint System) airbags are supplemental devices to be used with the seatbelts. The driver and all passengers in the vehicle must wear their seatbelts properly at all times. Never install a rear-facing CRS (Child Restraint System) on the front passenger's seat. For a forward-facing CRS, it is recommended you use it in the rear seats. Please do not use accessories for the seats which cover the parts where the SRS side airbags should inflate. Such accessories may prevent the SRS side airbags from activating correctly, causing serious injury (Lexus genuine seat covers are specifically designed for models equipped with the SRS side airbags. To find out about availability in your area, please inquire at your local dealer). The photo shows all the SRS airbags activated for display purposes only (the SRS side and curtain shield airbags only inflate on the side of the collision in an actual accident). For details on these and other important safety features, be sure to read the Owner's Manual carefully.
** People and obstacles that show in the monitor differ from the actual position and distance. Do not rely completely on the monitor and make sure you check the safety around the vehicle with your own eyes when driving.
THE NX GALLERY
Discover the sophisticated, sporty styling of the NX crossover.