TECHNOLOGY
LEXUS SAFETY
At Lexus, safety is always a priority and comes standard. Lexus' safety systems and features are engineered to protect the driver, occupants and enhance road safety.
FUTURE OF SAFETY
In the past, car safety used to be about passive safety systems, such as seat belts, airbags and a sturdy high-strength steel structure. Although these measures are effective, the future of safety ensures that it plays an active role in preventing crashes from occurring in the first place. Sophisticated technologies, inspired by fighter jets, like radar and thermal imaging and computer-added sensors could be incorporated into Lexus models to revolutionize how the car reacts to potential dangers, before the driver realizes. The Lexus Safety System+ works intuitively and intelligently to support, protect and ensure confident driving. These efforts have been rewarded with Lexus scoring high ratings for crashworthiness from many individual sources.
LEXUS SAFETY
LEXUS SAFETY SYSTEM+
Lexus vehicles feature the latest safety features and technologies. Each model is designed with a precise combination of safety enhancements, which may include:
• Lane Departure Alert
• Blind Spot Monitor
• Rear Cross-Traffic Alert
• Active Pedestrian Detection System
• Advanced Pre-Collision System:
Not only does it monitor the roadway ahead for vehicles and pedestrians, it also checks the interior of the Lexus to determine if the driver is paying attention and intelligently takes action.
For an accurate list of safety features by model, please visit your nearest Lexus Boutique.
Please note that Pre-Collision System may in some cases not operate properly due to a variety of road conditions, vehicle conditions, weather conditions, and operation by the driver or pedestrian/bicycle rider conditions. The driver is solely responsible for safe driving. Please enquire at your nearest Lexus Boutique for details on the availability of features.
People and obstacles that show in the monitor differ from the actual position and distance. Do not rely completely on the monitor and make sure you check the safety around the vehicle with your own eyes when driving.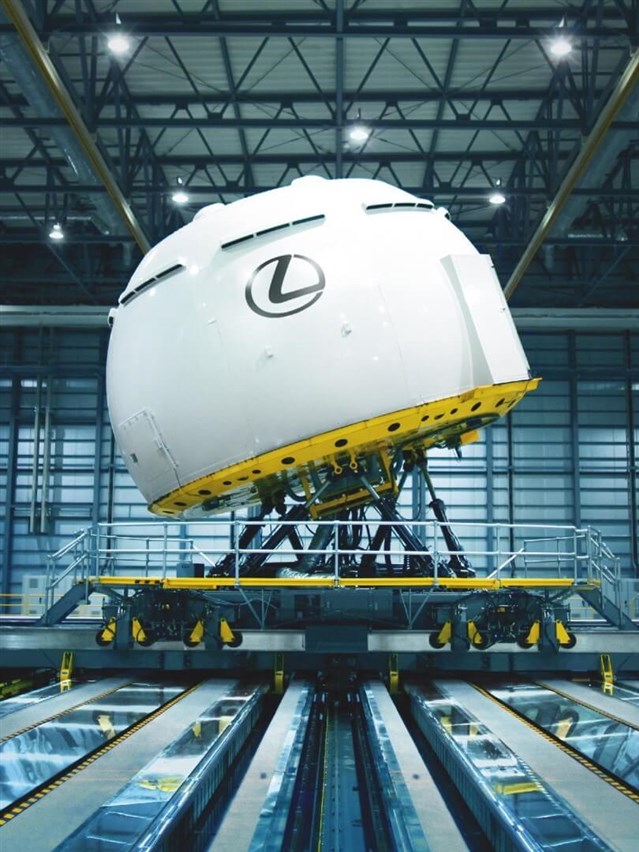 LEXUS SAFETY
LEXUS ADVANCED DRIVING SIMULATOR
The safety of tomorrow's world is already taking shape at Lexus. Engineers at Lexus research facilities are experimenting and gathering information about road & weather conditions, collisions and occupant safety – all in an effort to improve and innovate passive and active road safety systems. At the Lexus Advanced Driving Simulator, a real driver in a real car (including new Lexus models before its launch) can react to real-world situations. Scenes and sounds are projected inside the 7.1-meter dome of the simulator. Wrap-around screens display highly realistic projected images of both city and highway roads. Further adding to the ambiance, cylinders move, tilt and rotate – all to simulate turning, climbing and varied periods of acceleration and deceleration. This virtual reality testing allows researchers to simulate any type of driving experience, and such experimentation would be impossible in the real world.
LEXUS SAFETY
LEXUS THUMS
Lexus researchers employ another dimension to virtual crash-testing simulation called Total HUman Model for Safety (THUMS), which represent crash-test dummies with different characteristics developed to represent diversities in the human body, as well as special body types like pregnant women, elderly who have experienced the loss of bone density and children from various age groups.
From the family of THUMS, Lexus researchers can gather data regarding various injuries resulting from a collision to ensure the best safety features, force deflection, whiplash prevention and lessened impact. The use of THUMS is so important for road safety and the greater society that Lexus licenses THUMS to other automakers, instead of patenting it.