DESIGN
L-FINESSE
L-Finesse has been the term used to generally describe Lexus design since its official launch in 2013. Described as "leading-edge design and technology applied with finesse" and it has become Lexus' philosophy for design.
L-FINESSE
JAPANESE AESTHETICS
The art of Lexus is constantly evolving. In the realm of design, L-Finesse represents Lexus' root in Japanese aesthetics and omotenashi (Japanese-style hospitality) along with its commitments to evolve into the future.
L-FINESSE
BRAVE DESIGN
Brave Design starts with the courage to stand out and defy convention. Brave ideas lead to brave decisions, which lead to Brave Design. The result of Brave Design is amazing experiences that are unique to Lexus and exist as a result to L-Finesse.
Seamless Anticipation
Anticipating the customer's needs and desires is central to Lexus and to the Japanese spirit of hospitality. By integrating anticipation into design, forms that go beyond three dimensions are created, resulting in unique and personal experiences for all our customers.
Intriguing Elegance
Lexus elegance reveals itself through careful juxtaposition of opposing elements. The result is an experience filled with fascinating depth, which appeals to the senses through a profound and mysterious beauty.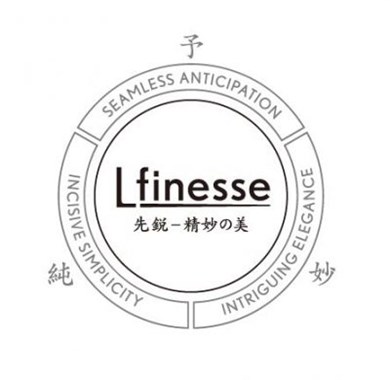 Incisive Simplicity
The simplicity of Lexus lies not in mere reduction of form. The removal of extraneous elements reveals the purity and beauty that is condenses within the structure and surface of the vehicle.
L-FINESSE
GLOBALLY DISTINCTIVE
This concept unites the fundamental principles of Lexus design – incisive simplicity, intriguing elegance, and seamless anticipation – while embarking the individual identity of each model. By designing innovative ways to excite and change the world, Lexus is the visionary luxury brand that anticipates the future for people and society.